Parthian Glass
Ointment bottle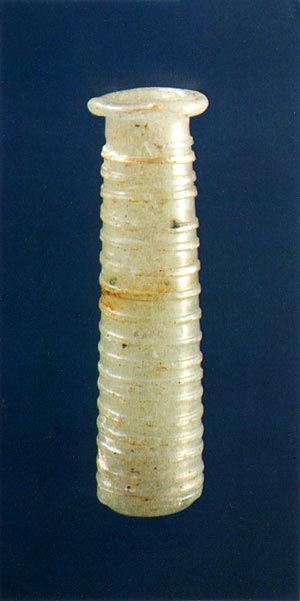 Ointment bottle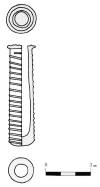 Ghalekuti tomb I-V, Dailaman, Gilan Province. 4th-2nd century B.C. Height 6.7 cm., diameter 1.9 cm. Collection of the Institute of Oriental Culture, Tokyo University.
The bottle of pale green opaque glass containing many air bubbles. The vessel is decorated with a thin glass string trailed in a spiral around the body, a flared lip and a long cylindrical body. This bottle was made by the core-molding method and probably was imported from the Levant. 18
Another ointment bottle (PDC 23171) was found with this specimen.
- Shinji Fukai, Persian Glass (New York: Weatherhill, 1977), plate no. 31 and figure 66
- Photo by Bin Takahashi
---