Parthian Glass
Bowl with ornamental protrusions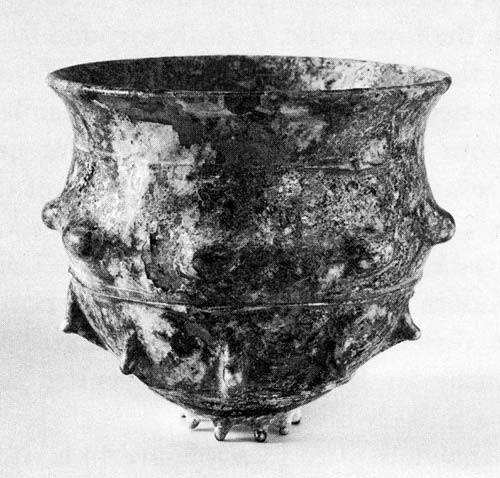 Bowl with ornamental protrusions


Hassani-mahale tomb VII, 1st - 3rd century A.D.
Bowls with large ornamental protrusions resembling warts and was made of thin, pale green glass by the free-blowing method. Many such bowls have been found. This bowl has a wide rim that is turned outward. It narrows from the lip to the neck, flares out to the middle of the body, then gradually tapers to the base, which is almost horizontal. There are nine large rectangular ornamental protrusions ringing the middle of the body, with ten long keel-shaped protrusions below them. Ten small protrusions at the base form feet. The vessel is further decorated with strings of glass of the same color as the bowl, wound around the neck, middle, and lower part of the body. Some vessels of this type, with the rim turned outward (PDC 23092), have a ring at the base instead of feet formed by small protrusions (PDC 23089). In addition, a few footed bowl-shaped vessels having a form typical of pottery, with a slightly constricted rim (PDC 23091), have been found. Ornamental protrusions are believed to have been inspired by the protrusions on certain marine shells and the manufacturing technique to have originated in Syria. For several centuries beginning around the time of Christ this method was widely used to decorate Syrian and Roman glass. It would not be surprising if the technique was carried to the Iranian highlands during that time. Based on the age of various objects found with it, the bowl from Hassani-mahale tomb VII can be assigned to the first to third century, when this style was most popular in the Syrian region. It can be assumed that the manufacture of glass bowls with ornamental protrusions also flourished in the Iranian highlands during the same period.
- Shinji Fukai, Persian Glass (New York: Weatherhill, 1977), figures 49, 50, 51.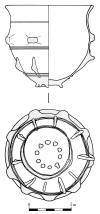 Scale drawing of the bowl.
---