Parthian Glass
Bowl with circular facets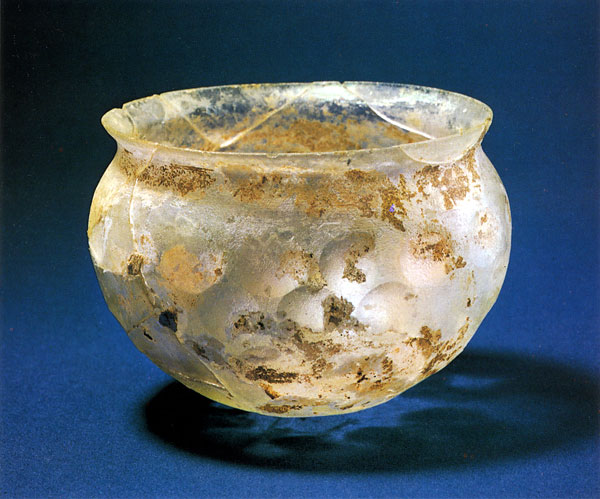 Bowl with circular facets
Gilan Province. 3rd-7th century. Height 6.8 cm., diameter 9.1 cm. Private collection, Tokyo.
A bowl of white opaque glass, with a distinctly constricted neck and a rim that turns outward. There are numerous small circular facets on the body. This vessel is very similar to a glass bowl found in one of the Niizawa Senzuka tombs in Kashiwabara, Nara Prefecture (PDC 23170).
Type I-C is characterized by a distinctly constricted neck and a lip that curves outward. Usually this type of vessel is made of very thin white glass shaped by blowing. The entire surface of the bowl is decorated with circular facets, just as are type I-A bowls. This piece is said to have been found in Kharsa Khaneh in the Dailaman region. It has a circular facet at the base and rows of six, eleven, sixteen, and sixteen circular facets on the body of the bowl, exactly like I-A bowls. Although the walls of the vessel are thin, each facet is concave. The bowl was made in either the late Parthian or the early Sasanian dynasty, judging from the date of the ruins in which it was discovered.
Perhaps because this type of bowl is easily broken, it is rarely found today. The Iraq National Museum in Baghdad owns one (PDC 23169), said to have been found in Seleucia.
- Shinji Fukai, Persian Glass (New York: Weatherhill, 1977), plate no. 9 and figure 33
- Photo by Bin Takahashi

Scale drawing of bowl with circular facets
---