Parthian Glass
Bowl with circular facets found in Japan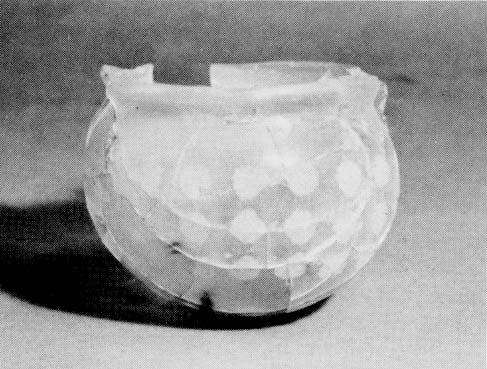 Bowl with circular facets found in Japan
Iranian highlands, exported to Japan? Parthian or Sasanian periods.
This bowl is made of thin glass, with circular facets similar to those of type I-C bowls, and is characterized by combined use of concave circular facets and circular facets made by rubbing. There is absolutely no reason to believe that this bowl, presumed to date to the fourth or fifth century, was made in Japan. It is reasonable to suppose that it was imported from the Iranian highlands.
There have been no reports of this kind of vessel from Central Asia, China, or Korea. But in Japan, a cobalt blue glass dish with a this white glass bowl placed on it were unearthed in 1963 from tomb 126 during the archaeological excavation of the Niizawa Senzuka tombs in Nara Prefecture. [Nara Prefecture Board of Education, Yamato Niizawa Senzukach?a gaiha, Showa 37, 38 nendo (Report of surveys of the Yamato Niizawa Senzuka tombs, 1962, 1963) (Nara: 1963)].
Perhaps because this type of bowl is easily broken, it is rarely found today. The Iraq National Museum in Baghdad owns one (PDC 23169), said to have been found in Seleucia.
- Shinji Fukai, Persian Glass (New York: Weatherhill, 1977), figure 35.
---