Unicode Greek Keyboard Layout
---
This page shows the layout of a standard US 101 English keyboard used to type Unicode Greek. You can install this custom keyboard software on any Windows XP through Windows 10 computer by downloading and installing the program.
Note: If you use other than a US 101 English keyboard, search the Internet for "How to create a custom keyboard layout for Windows 10". This will provide instructions for creating a custom keyboard for other language-specific keyboards.
After installation and configuration, a language button in the Windows system tray allows you to switch your standard US English keyboard between English (EN) and Greek (EL). The illustrations below show the button in the system tray. When you click on the EN or EL language abbreviation button, a dialog pops up to enable selection of installed keyboards.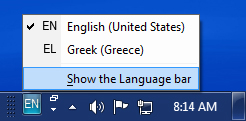 The downloadable keyboard application provided here is intended for use on a US 101 (QWERTY) keyboard with Unicode fonts that contain the required characters. Please refer to Unicode Greek Fonts for Numismatists.
Full details are provided in the PDF file.
US 101 Unicode Custom Keyboard Layout Chart for Greek Numismatic