Unicode Test Page
This page demonstrates Unicode in standards-compliant format. The default font of your Internet browser is used on this page.
Russian:
Кошеленко, Геннадий А., "Генеалогия первых аршакидов (еще раз о низийском остраке № 1760)"
В книге: Гафуров, Б. Г., Литвинский, Б. А. (ред.), "История и культура народов Средней Азии (древность и средние века)", Москва, Наука, 1976. стр. 31-37.
English:
Koshelenko, Gennadij A. "Genealogy of the first Arsacids (once again about Nisa ostracon no. 1760)"
In: Gafurov, B. G. & Litvinsky, B. A. (eds.), "History and culture of the peoples of the Middle Asia (ancient and medieval times)", Moscow: Nauka, 1976, p. 31-37.
Abstract:
Koshelenko proposes a new theory of descent based on the ostraca of Nisa, reconciles both Justin (Trogus) and Arrian (and Syncellus) accounts. Frye [1984, 209] uses this article as basis to accept Koshelenko's theory of descent of the Arsacids.
Italian translation published in Mesopotamia 17 (1982), pp. 133-146.
---
Greek
Line 1. Α Β Γ Δ Ε Ζ Η Θ Ι Κ Λ Μ Ν Ξ Ο Π Ρ Σ Τ Υ Φ Χ Ψ Ω
Line 2. Ϛ Ϝ Ϡ
Line 3. Ϙ (archaic "lollipop" koppa), Ϟ (modern "lightening bolt" koppa)
Line 4: Ϸ Ϲ Ϻ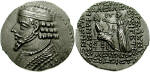 Phraataces (c. 2 B.C. A.D. 4)
AR Tetradrachm, 13.11g
Mint/ Seleucia, September, 2 B.C.
Obv/ bust left with pointed beard wearing diadem and beaded necklet with ornament, ear visible, hair above diadem as ringlets; no wart; circular border of dots
Rev/ male wearing diadem seated right on throne, extending right hand; to his right, Tyche stands left presenting wreath in right hand, and holding cornucopia in left; above her arm, Greek letters ΙΤ, below arm Greek letter Α; in exergue, Greek letters ΥΠΕΡΒΕΡΕΤ; seven-line Greek inscription ΒΑΣΙΛΕΩΣ ΒΑΣΙΛΕΩΝ ΑΡΣΑΚΟΥ ΕΥΕΡΓΕΤΟΥ ΔΙΚΑΙΟΥ ΕΠΙΦΑΝΟΥΣ ΦΙΛΕΛΛΗΝΟΣ; no border
Photo/ by permission Classical Numismatic Group
- Sellwood 56.3
- BMC Parthia, p.136, 1 variant (legend)
- J. Vinchon 7 (22-23 May 1995), lot 164 (this coin)
- Triton VII (12 Jan 2004), lot 465 (this coin)
---