Parthamaspates (c. A.D. 116)
ΠΑΡΘΑΜΑΣΠΑΤΗΣ
Parthamaspates gained the Parthian throne by acting as a Roman collaborator. The son of Osroes I (not the great-nephew as Shore maintains1), he spent much of his life in Roman exile and accompanied the Emperor Trajan on his campaign to conquer Parthia. After first planning to annex Parthia, Trajan prudently decided to place Parthamaspates as a Roman client-king on the Parthian throne. After the Roman withdrawal, however, Parthamaspates was easily defeated by Osroes and fled to the Romans who granted him the small Roman client state of Osrhoene in consolation. See the genealogy chart.
Although signed with the Ecbatana monogram, Parthamaspates' drachms may have been struck at Ctesiphon by the Romans after Trajan proclaimed him king. The engraving of his portraits show at least some Roman influence.
Click here to view the inscriptions on this king's coins.
____________________
Notes:
1. Fred Shore, Parthian Coins and History (1993), makes this mistake on p. 44.
---
Coins Attributed to Parthamaspates
The attributions and cataloging of Parthian coins used throughout this web site follow David Sellwood's An Introduction to the Coinage of Parthia (1980, 2nd edition) for consistency. The few exceptions to this policy are explained here.
Click on coin images to enlarge:

Parthamaspates (c. A.D. 116)
AR Drachm, 3.82 g
Mint/ Ecbatana, undated
Obv/ bust left with short beard wearing tiara with star in center and ear flaps; diadem with loop at the top and two wide ends. Earring visible
Rev/ archer seated right on throne holding bow, below bow monogram 26; archer's seat represented as horizontal line, four horizontal bars to throne back. Blundered Greek legend.
Photo/ by permission Classical Numismatic Group
- Sellwood 81.1
- Shore 423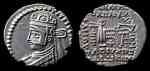 Parthamaspates (c. A.D. 116)
AR Drachm, 3.77 g, 20 mm, die axis = 12h
Mint/ Ecbatana, undated
Obv/ bust left with short beard wearing tiara with star in center and ear flaps; diadem with loop at the top and two wide ends. Earring visible
Rev/ archer seated right on throne holding bow, below bow monogram 26; archer's seat represented as horizontal line, four horizontal bars to throne back. Blundered Greek legend.
Photo/ by permission Thomas K. Mallon, The Coins and History of Asia
- Sellwood 81.1 (variant)
- Shore 423 (variant)

Parthamaspates (c. A.D. 116)
AR Drachm
Mint/ Ecbatana, undated
Additional images/ [large obv & rev]
Obv/ bust left with short beard wearing tiara with ear flaps decorated on side with crescents and star; earring visible; diadem with loop and two wide ends plus pendent beaded decoration falling from tiara with diadem tails
Rev/ archer seated right on throne holding bow, below bow monogram 26; archer's seat represented as horizontal line, five horizontal bars to throne back. Blundered Greek legend
Photo/ by permission Smithsonian Institution, National Numismatic Collection
- Sellwood 81.1
- Shore 423

Parthamaspates (c. A.D. 116)
AR Drachm, 3.74 g
Mint/ Ecbatana, undated
Obv/ bust left with short beard wearing tiara with ear flaps decorated on side with crescents and star; earring visible; diadem with loop and two wide ends plus pendent beaded decoration falling from tiara with diadem tails
Rev/ archer seated right on throne holding bow, five horizontal bars to throne back, below bow monogram 26; archer's seat represented as horizontal line. Blundered Greek legend
Photo/ by permission Classical Numismatic Group
- Sellwood 81.1
- Shore 423

Parthamaspates (c. A.D. 116)
AR Drachm, 3.74 g
Mint/ Ecbatana, undated
Obv/ bust left with short beard wearing tiara with ear flaps decorated on side with crescents and star; earring visible; diadem with loop and two wide ends plus pendent beaded decoration falling from tiara with diadem tails
Rev/ archer seated right on throne holding bow, five horizontal bars to throne back, below bow monogram 26; archer's seat represented as horizontal line. Blundered Greek legend
Photo/ by permission Classical Numismatic Group
- Sellwood 81.1
- Shore 423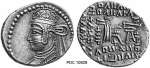 Parthamaspates (c. A.D. 116)
AR Drachm, 3.82, die axis = 12h
Mint/ Ecbatana, undated
Obv/ bust left with short beard wearing tiara with star in center and ear flaps; diadem with loop at the top and two wide ends. Earring visible
Rev/ archer seated right on throne holding bow, below bow monogram 26; archer's seat represented as horizontal line, four horizontal bars to throne back. Blundered Greek legend.
Photo/ by permission Numismatik Lanz Auction 102, lot 324
- Sellwood 81.2
- Shore 424

Parthamaspates (c. A.D. 116)
AE Chalkous, 12mm, 1.54 gm
Mint/ Ecbatana, undated
Obv/ bust left with short beard wearing tiara with ear flaps decorated on side with crescents and star; earring visible; diadem with loop and two wide ends plus pendent beaded decoration falling from tiara with diadem tails
Rev/ Nike walking right with diadem and palm branch
Photo/ by permission Classical Numismatic Group
- Sellwood 81.3
---