Unknown King (III) (c. A.D. 140)
This unknown king was a rebel during the time of Vologases III (c. A.D. 105 - 147). His coins are very similar to those of Vologases but the diadem has four pendants, perhaps a claim to more power or territory than that of Vologases. By intent or accident, the engraver omitted the name "Arsaces" in the reverse inscription. Unlike Mithradates IV (c. A.D.129 - 140), another rebel during this same period with similar portrait, this king did not place his name on the coins so he remains known to us only through his coinage.
After his challenge ended, some existing coins of this failed rebel were assimilated into the coinage of Vologases by cutting away the fourth pendant.
Click here to view the inscriptions on this king's coins.
See the genealogy chart.
---
Coins Attributed to the Unknown King (III) (c. A.D. 140)
The attributions and cataloging of Parthian coins used throughout this web site follow David Sellwood's An Introduction to the Coinage of Parthia (1980, 2nd edition) for consistency. The few exceptions to this policy are explained here.
Click on coin images to enlarge: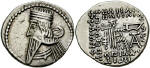 Unknown King III (c. A.D. 140)
AR Drachm 3.73 g
Mint/ Ecbatana, undated
Obv/ bust left with long pointed beard wearing three-band diadem and three loops, pendants shown as four lines; spiral torque with no visible end; no wart; hair in three waves with earring visible; circular border of dots
Rev/ beardless archer wearing bashlyk and cloak seated right on throne, holding bow in right hand; below bow, monogram; seven-line Greek inscription has very abbreviated right line; no border
Photo/ by permission Classical Numismatic Group
- Sellwood 83.1
- BMC Parthia not listed
- Mitchiner ACW 683
- Peus 338 (April 1994) lot 236 (this coin)
- Shore 426
- Triton VII (Jan 2004), lot 501 (this coin)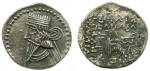 Unknown King III (c. A.D. 140)
AR Drachm, 2.82 g, 20 mm, 12h
Mint/ Ecbatana, undated
Obv/ bust left with long pointed beard wearing three-band diadem and three loops, pendants shown as four lines; spiral torque with no visible end; no wart; hair in three waves with earring visible; circular border of dots
Rev/ beardless archer wearing bashlyk and cloak seated right on throne, holding bow in right hand; below bow, monogram; seven-line Greek inscription has very abbreviated right line; no border
Photo/ by permission of a private collector
- Sellwood 83.1
- BMC Parthia not listed
- Mitchiner ACW 683
- Shore 426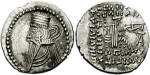 Unknown King III (c. A.D. 140)
AR Drachm, 3.32 g
Mint/ Ecbatana, undated
Obv/ bust left with long pointed beard wearing three-band diadem and three loops, pendants shown as four lines; spiral torque with no visible end; no wart; hair in three waves with earring visible; circular border of dots
Rev/ beardless archer wearing bashlyk and cloak seated right on throne, holding bow in right hand; below bow, monogram; seven-line Greek inscription has very abbreviated right line; no border
Note/ from the Bellaria Collection
Photo/ by permission Classical Numismatic Group
- Sellwood 83.1
- BMC Parthia not listed
- CNG 66 (19 May 2004), lot 815 (this coin)
- Mitchiner ACW 683
- Peus 349 (30 Oct 1996), lot 218 (this coin)
- Shore 426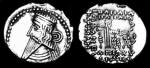 Unknown King III (c. A.D. 140)
AR Drachm, 3.80 g
Mint/ Ecbatana, undated
Obv/ bust left with long pointed beard wearing three-band diadem and three loops, pendants shown as four lines; spiral torque with no visible end; no wart; hair in three waves with earring visible; circular border of dots
Rev/ beardless archer wearing bashlyk and cloak seated right on throne, holding bow in right hand; below bow, monogram; archer's foot appears as an "x"; seven-line Greek inscription has very abbreviated right line; no border
Photo/ by permission Classical Numismatic Group
- Sellwood 83.1 variant (archer's foot as x)
- CNG 36, lot 426 (this coin)
- BMC Parthia not listed
- Shore 426 (this coin)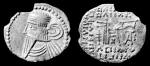 Unknown King III (c. A.D. 140)
AR Drachm, 3.3 g, 20mm, 12h
Mint/ Ecbatana, undated
Obv/ bust left with long pointed beard wearing three-band diadem and three loops, pendants shown as four lines; spiral torque with no visible end; no wart; hair in three waves with earring visible; circular border of dots
Rev/ beardless archer wearing bashlyk and cloak seated right on throne, holding bow in right hand; below bow, monogram; archer's foot appears as an "x"; seven-line Greek inscription has very abbreviated right line; no border
Additional photo/ obverse & reverse
Photos/ by permission Ed Hohertz
- Sellwood 83.1 variant (archer's foot as x)
- BMC Parthia not listed
- Shore 426

Unknown King III (c. A.D. 140)
AR Drachm
Mint/ Ecbatana, undated
Obv/ bust left with long pointed beard partially cut away, wearing three-band diadem and three loops, pendants shown as three lines (one has been cut away); spiral torque has been cut away; no wart; hair in three waves with earring visible; circular border of dots
Rev/ beardless archer wearing bashlyk and cloak seated right on throne, holding bow in right hand; below bow, monogram; seven-line Greek inscription has very abbreviated right line; no border
Photo/ copyrighted (Sellwood, An Introduction to the Coinage of Parthia (1980), plate 7, 83.2)
- Sellwood 83.2
- BMC Parthia not listed
- Shore 426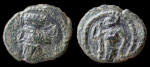 Unknown King III (c. A.D. 140)
AE Chalkous, 0.92 g, 12 mm
Mint/ Ecbatana, undated
Obv/ bust left with long pointed beard wearing three-band diadem and three loops, pendants shown as four lines; spiral torque with no visible end; no wart; hair in three waves with earring visible; circular border of dots
Rev/ Athena (?) standing left with spear (?); circular dotted border
Photo/ by Chris Hopkins
Location/ Bibliothèque nationale de France, Paris, nc 1153
- Sellwood 83.3

---