Vologases V (c. A.D. 191 - 208)
ΟΛΟΓΑΣΗΣ
Click here to view the inscriptions on this king's coins.
See the genealogy chart.
---
Coins Attributed to Vologases V
The attributions and cataloging of Parthian coins used throughout this web site follow David Sellwood's An Introduction to the Coinage of Parthia (1980, 2nd edition) for consistency. The few exceptions to this policy are explained here.
Click on coin images to enlarge:

Vologases V ((c. A.D. 191 - 208)
AR Drachm, 3.41 g
Mint/ Ecbatana, undated
Obv/ bust facing with hair in bunches above diadem and behind ears, pointed beard with vertical lines, necklet as straight lines
Rev/ archer seated right on throne holding bow, below bow Shore monogram 89; blundered Greek legend, with king's name in Aramaic on top line
Photo/ by permission Malter Galleries
- Sellwood 86.3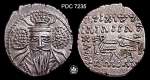 Vologases V (c. A.D. 191 - 208)
AR Drachm, 3.78 g
Mint/ Ecbatana, undated
Obv/ bust facing with hair in bunches above diadem and behind ears, pointed beard with vertical lines, necklet as straight lines
Rev/ archer seated right on throne holding bow, below bow Shore monogram 89; blundered Greek legend, with king's name in Aramaic on top line
Photo/ by permission Classical Numismatic Group
- Sellwood 86.3
- Shore 448
- Triton IV, lot 7235 (this coin)

Vologases V (c. A.D. 191 - 208)
AR Drachm, 3.60 g
Mint/ Ecbatana, undated
Obv/ bust facing with hair in bunches above diadem and behind ears, pointed beard with vertical lines, necklet as straight lines
Rev/ archer seated right on throne holding bow, below bow Shore monogram 89; blundered Greek legend, with king's name in Aramaic on top line
Photo/ by permission, private collector Brussels
Note/ the second line of the the Aramaic text differs from Sellwood; all the below references have the variant text
- Sellwood 86.3 variant (Aramaic legend)
- Triton V (Jan 2002), lot

1558

(this coin)
- John Lindsay (1852, plate 4, no. (9)3
- Shore 448-449 partial
- Petrowicz (1904), plate XXIII, no. 4
- Gardner (1968), plate VII, no. 15

Vologases V (c. A.D. 191 - 208)
AE Dichalchous, 2.63 g, 16 mm
Mint/ Seleucia, undated
Obv/ bust facing with hair in bunches above diadem and behind ears, pointed beard with vertical lines, necklet as straight lines
Rev/ bust of Tyche right
Photo/ by permission Wayne G. Sayles, The Celator
- Sellwood 86.7

Vologases V (c. A.D. 191 - 208)
Billon Tetradrachm, 13.51 g
Mint/ Seleucia, 192/193 A.D.
Obv/ bust left, with pointed beard, hair bunched above diadem and behind ears
Rev/ king seated left on throne, Tyche standing right with scepter, presenting diadem; above diadem year date

ΔΦ

(504 S.E. = 192/193 A.D.), month in exergue off flan; Greek legend

[Β]ΑΣ[ΙΛΕΩΣ ΒΑΣΙΛΕΩΝ] / [ΑΡΣΑΚΟΥ ΟΛΟΓΑΣΟΥ] / [ΔΙΚΑΙΟΣ] / [ΕΠ]ΙΦΑΝΟΥ[Σ ΦΙΛΕΛΛΗΝΟΣ

]
Photo/ by permission Henri Delger, Old Roman Coins for Special Collectors
- Sellwood 87.2-9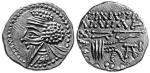 Vologases V (c. A.D. 191 - 208)
AR Drachm, 3.57 g
Mint/ unknown
Obv/ bust left, with pointed beard, hair bunched above diadem and behind ears
Rev/ archer seated right on throne holding bow, below bow the same monogram seen later on the S88.19 coins of Vologases VI; blundered Greek legend, with king's name in Aramaic on top line
Note/ this extremely rare drachm is otherwise unknown; it has the same legend as the Type 86 drachms of Vologases V.
Photo/ by permission Gorny & Mosch
- Sellwood not listed
- Shore not listed
- Gorny & Mosch Auktion 130, lot 1498 (this coin)
---